Over the next few weeks, we will be interviewing some of our previous KFW winners on their new collections, inspirations and vision for the future.
Today we commence this series with the one of Ireland's most talented designers, the wonderful Laura Jayne Halton, who won the KFW One to Watch Award in 2012. We are delighted also to announce that Laura Jayne Halton will be showcasing her new collection at the KFW New Collections Show in the Malton Hotel, Killarney on Friday 7th of March.

1. What did winning at KFW mean to you ?
Winning the "One To Watch" category was a huge milestone for me. The award winning collection was only my second ever collection
and being chosen was a great boost as a designer in both confidence and media exposure.
2. Have you won other awards ?
I have been shortlisted for both Student Designer of the Year and One to Watch at The Irish Fashion
Innovation Awards and also in the final 9 Nationwide in the Italian Peroni Moda Awards
3. Tell us about yourself, your vision, what made you seek a career in fashion.
My inspiration and influences creatively are constantly changing, which keeps things exciting and fresh. Sources of inspiration for my collections can be anything from the architecture of the New York skyline, to the work of Florentine Renaissance artists. What is always constant in my vision is to empower women, to enhance the feminine form and to create really beautiful couture pieces that are a fusion of timeless elegance with contemporary cuts and luxury fabrics. The finish of everything I do is of upmost importance, from
every piece that I create, to my illustrations and artwork, all of which influence each other. I chose to venture onto the path of fashion design following my return from working in NYC, it became what I can now look upon as a natural progression. From an architecturally influenced background I could now create structure with fabric, and use my artistic and creative strengths to design cohesive collections with my signature style.
4. Career highlights to date.
Winning at KFW of course!
Every time I see my work on a catwalk is a highlight for me. Dressing an oscar nominee and flying to Hollywood is definitely
up there as one of the most historic and influential moments of my life to date. Having my AW collection featured on the Cover of the Business Post Agenda Magazine in November was a wonderful feeling and a very proud moment that showed that really hard work pays off.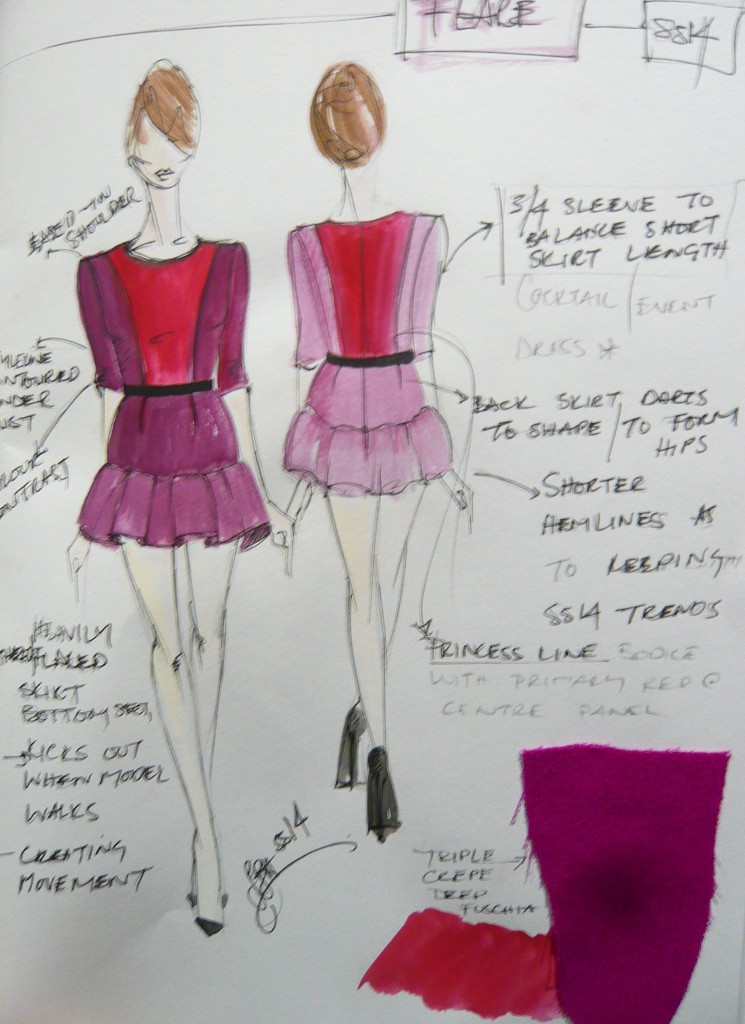 5. Tell us about your 14 Collection.
This collection is entitled "Bringing It All Back Home" and takes its inspiration from Bob Dylans 1965 album of the same name. The root of the colour palette begins with a confident Sally Grossman sitting proudly at the centre of the frame in bold red amongst a palette of greys and black. It grows from there into a collection that begins with soft neutrals and pinks, and expands into bold crimsons and deep fuschias and evolves into glossy black with a crisp white finale piece-all of which contain elements that stay true to the
signature style of Laura Jayne Halton and are fused with a contemporary cut, gorgeous fabrics and a timeless appeal
6. What are your dreams for the future ?
To keep creating and continue to produce pieces that I am confident and proud of. I am currently working on sourcing with the aim to expand the brand into RTW so watch this space!