KFW14 Irish Fashion Industry Awards – Gala Dinner
in association with IMAGE Magazine

Date: Saturday 8th March
Time: Drinks Reception 7pm, Gala Dinner and Awards Ceremony 8pm
Venue: The Europe Hotel & Resort, Killarney
Dress Code: Black Tie
Tickets: €100
The 6th annual KFW Irish Fashion Industry Awards, in association with IMAGE Magazine, will take place on Saturday 8th March in the spectacular surroundings of the 5 star The Europe Hotel & Resort, Killarney.
The evening will commence with a Drinks Reception showing New Collections from last year's winners and Fashion Photography from this year's Irish Fashion Photogrpaher category finalists.  Guests will then enjoy a Gala Dinner in the magnificent setting of the main ballroom in the spectacular surroundings of the 5 star Europe Hotel & Resort.  The KFW14 Irish Fashion Designer of the Year will be announced on the night and an exclusive preview of their new collection will be shown. There will also be entertainment after the awards ceremony to keep the party going until the wee hours.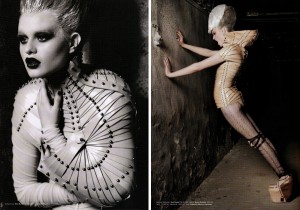 Kerry Fashion Week (KFW) are delighted to announce that we will also be showcasing some of the new collection from Úna Burke, the multi-award winning Leatherworker, Accessories Designer and Artist, at the KFW Irish Fashion Industry Awards on Saturday 8th of March.  Among Úna's clients are Daphne Guinness, Phillip Lim, Lady Gaga, The Simone Handbag Museum in Seoul, The National Museum of Ireland, Rihanna, Madonna, i-D magazine, Joyce Boutique, The Crafts Council of Ireland, On Pedder, Heidi Klum, Elva and Dazed and Confused Magazine.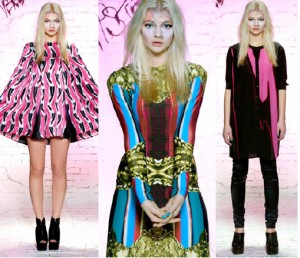 We are also honoured to have the award winning artist and fashion designer Helen Steele attend. She will show her collection SS14 at the event. Fans of the label include model Cara Delevingne, Rita Ora, Jessie J, Iggy Azelea, Eliza Doolittle, Fearne Cotton, Pixie Lott and Pixie Geldof. All of the brands clothing is produced in Ireland in both Dublin and Monaghan. We are really excited that Helen Steele will also be creating two new pieces which will be exclusively revealed at KFW Irish Industry Awards.
Of course, the highlight will be the announcement of the KFW Irish Fashion Industry Award Winners by Chairperson of the Judging Panel, Melanie Morris, Editor-in-Chief, Image Publications; Ingrid Hoey, TV & Celebrity Stylist and Lisa Brady, Fashion Journalist, Sunday Business Post.Each year entries to these awards continue to highlight the exceptional standard of creative talent at every level, from emerging to established, within the Irish Fashion Industry. This year, we have expanded the award categories to recognise and celebrate the achievements of all those involved in the industry including stylists, bloggers, make up artists, photographers and other creatives. There is also an important new award – the IMAGE Breakthrough Fashion Designer, which will be awarded by Chairperson of the judging panel, Melanie Morris, to a designer who has significantly developed their collection, business and brand within the previous 12 months.
________________________________________________________
KFW14 Award Finalists: 
________________________________________________________
National Award Categories
KFW Irish Accessory Designer 2014

Willow & Clo (Jewellery)
Sophie Hunter (Milliner)
Aisling Ahern (Milliner)
Cora Llei (Handbags)
Laura Kinsella (Milliner)
KFW IMAGE Breakthrough Designer 2014 – sponsored by IMAGE

Kaitlin McGrath, (Womenswear)
Zoe Carol, (Womenswear)
Niamh O'Neill, (Womenswear)
KFW One to Watch 2014 – sponsored by Lancome Paris
Ruth Doyle (Womenswear)
Valerie O Shea (Womenswear)
Stephen Foley (Womenswear)
Neidin Hats (Millinery)
The Cardboard Mannequin (Jewellery)
KFW Irish Student Designer 2014 – sponsored by the Hotel Europe & Resort

Anna Wozniak – Mallow College
Hazel Comyn – Mallow College
Gina Wallace – Mallow College
Agnes O'Leary – Mallow College
Geraldine Breen – Mallow College
Carol Ann Hughes  –  Griffith College, Dublin
Olga Profutkina – Limerick School of Art & Design
KFW Irish Fashion Photographer 2014

Daniel Holfeld
Holly McGlynn
Suzy McCanny
Eilish McCormick
Patrick Tobin
KFW Irish Fashion Blogger 2014

Concrete Collar
Yucky Duck
Retro Flame
Orla Sheridan
KFW Irish Fashion Creative Industry Award 2014 – sponsored by Sanctuary Medi Spa
Carmel Daly, Stylist
Linda Conway, Stylist
Mairead Vickers, Stylist
Kerry Award Categories
KFW Kerry Fashion Designer of the Year
Catherine Kelly, (Womenswear)
Carol Kennelly (Millinery)
Orla O'Connor (Womenswear)
KFW Kerry Milliner of the Year – sponsored by Dawn Milk Ladies Day
Breda Galwey (Hats aHead)
Elizabeth Histon McDaid
Kathleen Cahill-Galwey
Aoife Hannon
KFW Kerry Fashion Business / Event – in association with the Sunday Business Post
Castleisland: the Fashion Capital of Kerry
Signatures, Listowel
Jack's Coastguard Restaurant Designer Showcase
Annette O Brien, Make up Artistry
Judges Award Categories
The winners of these categories will be decided solely by the judges and will be announced on the night
KFW Irish Fashion Designer of the Year 2014 – in association IMAGE Magazine
KFW Special Merit Award 2014 – sponsored by The Malton Hotel Killarney
KFW Irish Fashion Business Person of the Year 2014 – in association with the Sunday Business Post

NOTE: KFW, in association with our valued partners, fully sponsor the professional production, photography, motion, models, hair and make up and event management to all finalists in order to showcase their collections.